You'll get a digital key via email, not a physical product
Pure Farming 2018
Delivery

IN STOCK - delivered in a few minutes

Distribution

Digital key via email
Print
FARMING GOES GLOBAL!

Use the latest technology and state-of-the-art licensed machines to manage all aspects of modern farming. Travel between Europe, Asia, and both Americas to plant region-specific crops such as hemp, coffee beans, and olives. Farm your way thanks to three unique game modes tailored to both simulation veterans and newcomers to farming games.




All-In-One - Try your hand at almost every imaginable aspect of modern farming, such as animal husbandry, orchards, greenhouses, field cultivation, green energy and more.

100% Licensed Machines - Drive faithfully recreated farming vehicles from such industry leaders as Zetor, Landini, McCormick, Gregoire, DAF, Mitsubishi, and many more. Reproduced down to the smallest detail, including their weight and physics, the machines will offer a realistic, in-depth experience of running a modern farm.






Global Farming – Travel between your farms located in Italy, Colombia, Japan and Montana, USA. Grow unique region-specific crops and use dedicated machines never before seen in farming simulators, including the rice planter, hemp harvester and more.

Farming For Everyone – Three different games modes for different playstyles. Enjoy the freedom and challenge of running your own farm in Free Farming, learn the ins and outs of agriculture in My First Farm, or test your farming skills in objective-focused Farming Challenges.

Nature Is Beautiful  – Admire the breath-taking landscapes of four continents and enjoy realistic, high-quality graphics.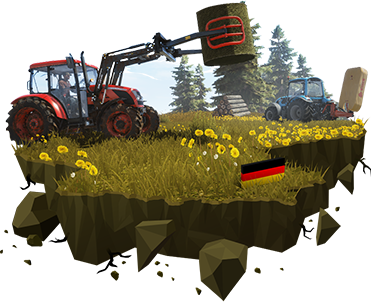 Germany Map - Pre-order the game to expand it with the Germany Map for hours of additional gameplay. Run a new farm located in one of the most beautiful parts of Germany and try your hand at unique, region-specific activities: growing rapeseed and raising sheep.
1. Download, install and run installer STEAM.

2. After the game run, create your STEAM account according to instructions on screen, after that go into tab Games, options for product activation on Steam, copy the game bought game key from your KeenShop account

3. After this procedure the game and it's parts is present at Games tab.